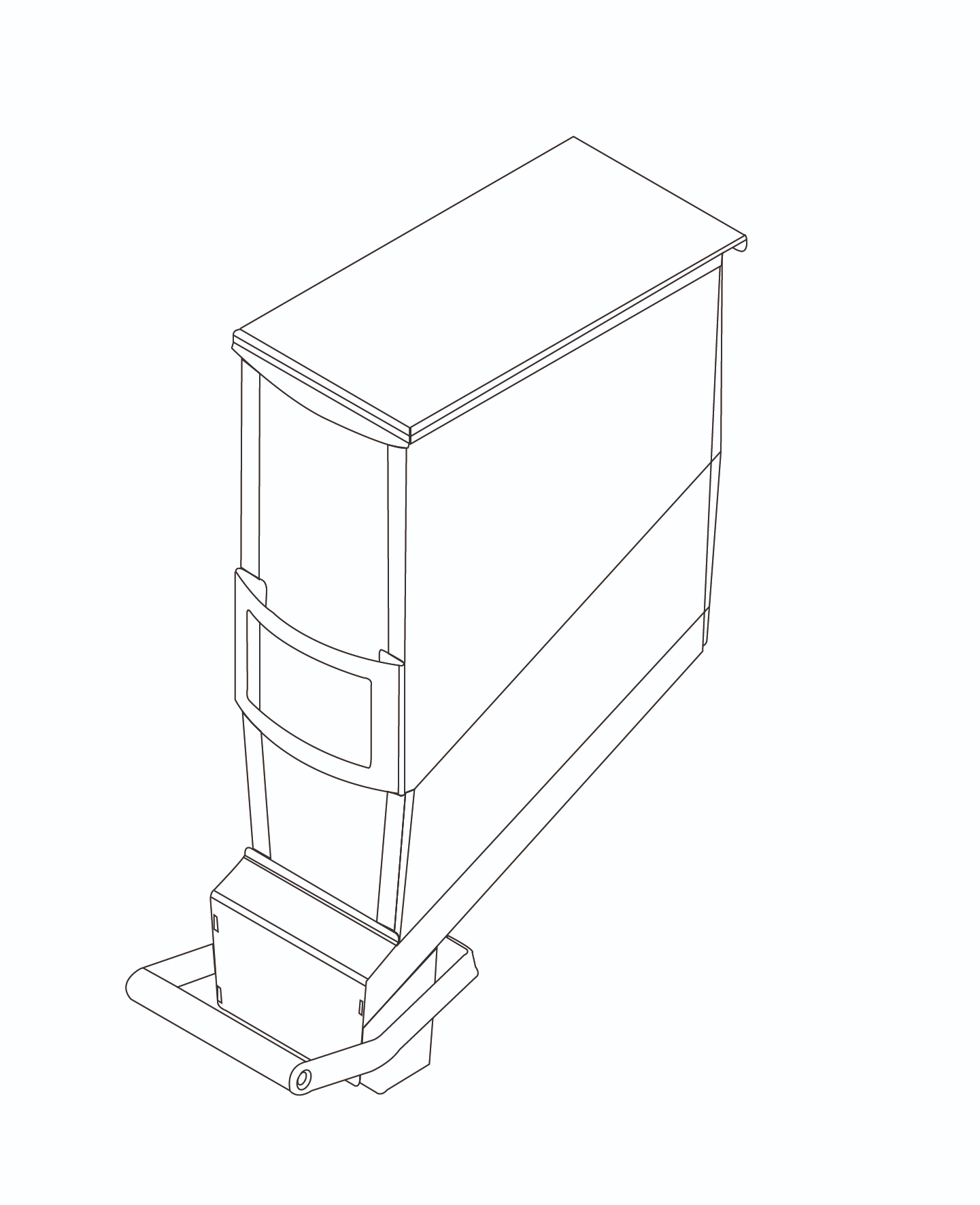 Details
Weight : 7kg
Capacity : 12,5 litres
Width : 147 mm
Height : 492 mm
Depth : 381 mm
Legumes (lentils, beans, chickpeas, split peas, soybeans, …)
Pasta
Cereals (rice, couscous, bulgur, quinoa, barley, millet, kamut, …)
Oilseeds (walnuts, hazelnuts, peanuts, almonds, pistachios, cashews)
Appetiser mix
Muesli
Breakfast mixes
Breakfast cereals
Granola
Coffee beans
Seeds (squash, sunflower, flax, …)
1. Sustainable and inert materials : stainless steel and glass
The strength of these materials ensures a long term use without any alteration. Plus, they are recyclable! This is an investment that is part of a logic of sustainability and waste reduction.
3. Ergonomics
Easy to handle, our dispensers can be entirely disassembled. They can be refilled from the top by simply lifting their covers. Align multiple dispensers to offer your clients as many bulk references as possible !
5. Opacity
The container's opacity is essential for the good preservation of the organoleptic qualities of your foods, especially nuts, chocolate or coffee. Our distributors have only one window at the front, so exposure to light is limited.
7. Fitting system
Designed from the dimensions of standard dispensers, Drop is compatible with all fittings. Its installation is a breeze thanks to the fact that the container is fitted with a hook. Already have a point of sale in bulk? Turn it into a sustainable retail outlet in no time!
100% MADE IN BELGIUM
Zero Waste Dispenser designs and develops its products alongside highly qualified Belgian collaborators.
2. Hygiene
Zero Waste Dispenser is 100% compatible with the highest quality and sustainability standards and compliant with the Regulation (EC) No 1935/2004 of the European Parliament and of the Council of 27 October 2004 on materials and articles intended tocomeinto contact with food.
4. Aesthetics
Zero Waste Dispenser is an elegant product. Its stainless still gives your store character. It's the container that meets the expectations of your key products : local, artisanal and organic. Its aesthetic reflects the quality of its content.
6. Label-holder
On the label-holder at the front of the dispenser, there is enough space for you to give important and relevant sale information. It is possible for examples to give cooking instructions or recipe ideas to highlight a lesser-known product.
8. Airtight
Thanks to its inside stainless steel comb, the dispenser keeps the food retained, even the smallest (bulgur, quinoa, chia seeds) and therefore not in contact with air.
EASY TO USE
Our dispensers are completely mechanical. The customer helps himself by simply setting off the lever. The dispenser can be filled from the top, by lifting the cover and pouring the desired content.
EASY TO MAINTAIN
Cleaning can be easily performed by hand. Furthermore, the dispensers are dishwasher safe
Simply disassemble their elements and place them separately in the washing appliance.